What a journey, what an exercise in trust and a huge amount of generosity, kindness, gifts and love. I finally have opened the doors at my new Farnborough Healing Hut. It has taken months to get to this point, lots of tears and challenges along the way but so relieved to have finally made it this far.
I have held a vision for many years now to have a dedicated healing space to work from, hoping to minimise my carbon footprint by reducing my mileage up and down the country. Having worked with people in London, Chessington, Haslemere, Farnham, Guildford, Frimley and not forgetting Salima, Malawi and Sarajevo, Bosnia!
I decided when this was being built to put some of my lovely healing crystals into the ground as you can see by these pictures of my builder dropping them into the concrete base! Some were given to me as gifts, most were bought, some I had inherited from my mother and one was from completing the Camino De Santiago, which was a test of resilience also a hugely spiritually rewarding experience.
Here are some pictures of the building process, having to find people to take all the top soil from my garden, putting in new trellises for flower beds, watching the garden turn into a building site and trying to remain calm!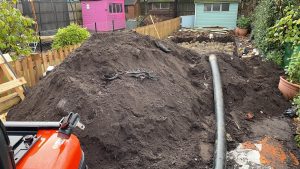 Then it came to the stage of painting, what paint to choose and how to do it and when is best. We had problems after doing the mist coat as the next layer all began to peel off!! So spent many hours trying to remove that coat before putting another undercoat on! Finally settled on Hope Springs Eternal for the main room paint.
When I set up my logo for the ART of Healing many years ago, I wanted to reflect the journey I had been on to get to where I am today. I was diagnosed with Ulcerative Colitis in 2007 and spent many years in pain and suffering learning how to improve my mental, emotional and physical health and learnt how these are all interlinked. I work with the chakra system for my healing therapies, I chose orange which is the sacral chakra for the centre of my logo and because of this I wanted to choose orange as the wall colour. Orange is the sacral chakra and the place of where my healing comes from – the gut.
When I first started I called my business "Amanda Riley Therapies" and from that I used the first letters to create ART. Which then became The Art of Healing. Here are some pictures of us painting the healing hut.
Then it was time to fill the space with pictures, some of which are my photographs, then some of my many certificates, furniture – some shelving given by a friend, some bought online, some from my lovely local charity shop Debra. Plus a really lovely client of mine gave me all of her oils and some curtains and a curtain rail! So much love, generosity and huge kindness all fill the wonderful healing space that has been created today. I have had so much financial help from my brother and sister, and help with painting from my partner his daughter and several friends and finally a huge amount of help with the last fixtures from Dave, can not express how wonderfully supportive everyone has been to me to get to this point. So I wanted to share how a healing hut can be created from love and this shows exactly how that has been done!
I look forward to meeting many new clients in this warm and welcoming space. Welcome to you all xxx